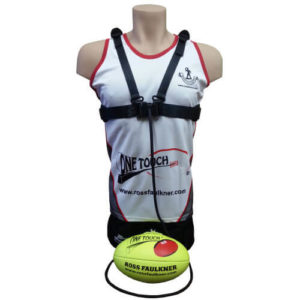 Woweee !! … Okay, Okay, Okay … I'm going to admit it straight off the bat, I'm really impressed with this new Football Training Aid, called the "One- Touch". 
Every now and then there is a product that comes along that revolutionizes how AFL Football Skills Training is done, and the "one touch" takes skills training to a whole new level.
It's even endorsed by Geelong Football Club captain, Joel Selwood! and will super popular with players and football clubs. 
But I can talk all day about it, and your best to see it for yourself in the video below…  and is available here at SportStrap. :
Shop for the One-Touch Football Training Aid
Its available at SportStrap.com.au, in a range of sizes for both Junior (synthetic) and Senior (leather) footballers. 
All players strive to become a one touch player, and this training aid will certainly assist players training to be cleaner, faster and stronger … especially after fatigue sets in.
The One Touch is perfect for improving the following:
I'm really excited to introduce the One-Touch to you, and I know its going to be really popular with our SportStrap community.
So don't miss out on this game-changing football training equipment.
Shop for the One-Touch Football Training Aid